You want to set up a CSR approach but don't know where to start? We tell you everything today on BipiZ.
Indeed, there are many ways of doing CSR in companies and each structure, depending on its organization, requires a different approach. Nevertheless, some essential actions can apply to all of them. Are you ready? Here are 5 tips to start a CSR approach.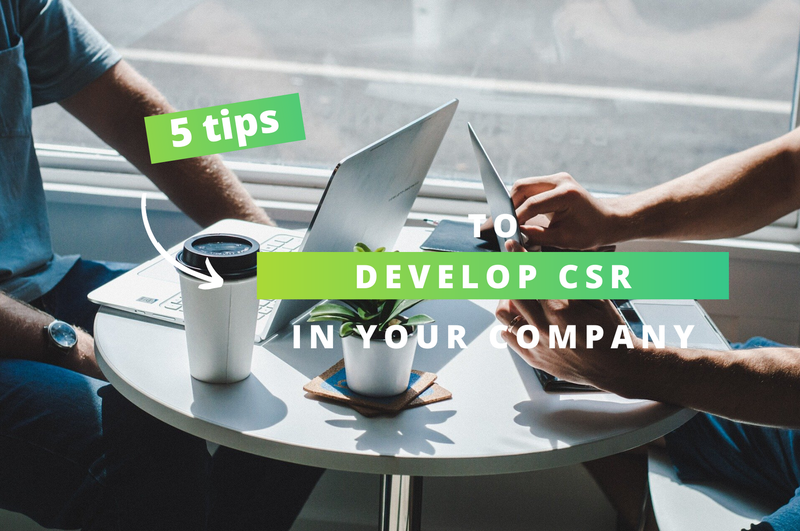 #1 :

Involve your employees in writing the CSR approach!
A CSR strategy doesn't develop by itself and the first step in any approach is to involve your employees in it. You will quickly understand that a stakeholder dialogue will allow you not only to understand their expectations in terms of responsibility, but also to build together the main pillars of your strategy. Responsible management encourages initiatives, unites employees and makes everyone aware of the company's CSR commitments. For example, Boulanger has transformed its adventure with its employees, and that changes everything!
To find out more about Boulanger's CSR approach, click here.
#2 : Take care of your employees by rationalizing their travel
Employee travel is a major source of CO2 emissions and has a significant impact on global warming. The use of the car for home-to-work journeys is on average 9 times more polluting than its equivalent in public transport and many alternatives exist. Carpooling, telecommuting and eco-driving have been adopted by Lyreco's teams, and they are satisfied!
Beyond the reduction of CO2 emissions, there are many benefits for users of soft transport and teleworkers, such as a better work-life balance for employees and considerable savings.
Find out more about Lyreco's CSR Best Practice here.
#3 :

Make your teams aware of diversity and capture talent!
The strength of a team is often its diversity. In addition to contributing to the company's productivity, it allows a broader view of its issues. Compethance, for example, helps people with disabilities to transform constraints into opportunities. Some of their talents, Asperger's autistics, have analytical skills that are easily adapted to IT jobs. A diverse and competent team, what more could you ask for?
Are you interested in Compethance's approach? Click here.
#4 :

Promote the well-being and integration of your employees
Whether through sports or team-building activities, it is important to promote the well-being of your employees. Supporting them in their integration and designing training programs is also a plus if you want to improve their expertise and guarantee them good working conditions. This will certainly have an impact on your company's results... Salti will tell you. Its collaborative Intranet, muscle awakenings and other collective activities have delighted the teams!
Salti's entire CSR approach can be consulted here.
#5 :

Having a positive impact on its territory through responsible purchasing
Boosting an employment pool and contributing to the local economy is an excellent CSR performance lever. Thus, choosing partners in the region and buying responsibly will strengthen your ties with the various players in the area. That's why the SNCF supports the region's entrepreneurs and promotes innovation. Among their 20,000 suppliers, 13,000 are mainly local SMEs. It's a good idea, isn't it?
Consult the SNCF's CSR approach here.
And that's it, that top five is over! We hope that you have been able to find some leads to get started in CSR... If you wish to go further, don't hesitate to search for the CSR Best Practice that suits you thanks to the personalized search. So, where do we start?
This article has been translated voluntarily by an anonymous contributor. If you have any comments, please contact This email address is being protected from spambots. You need JavaScript enabled to view it..